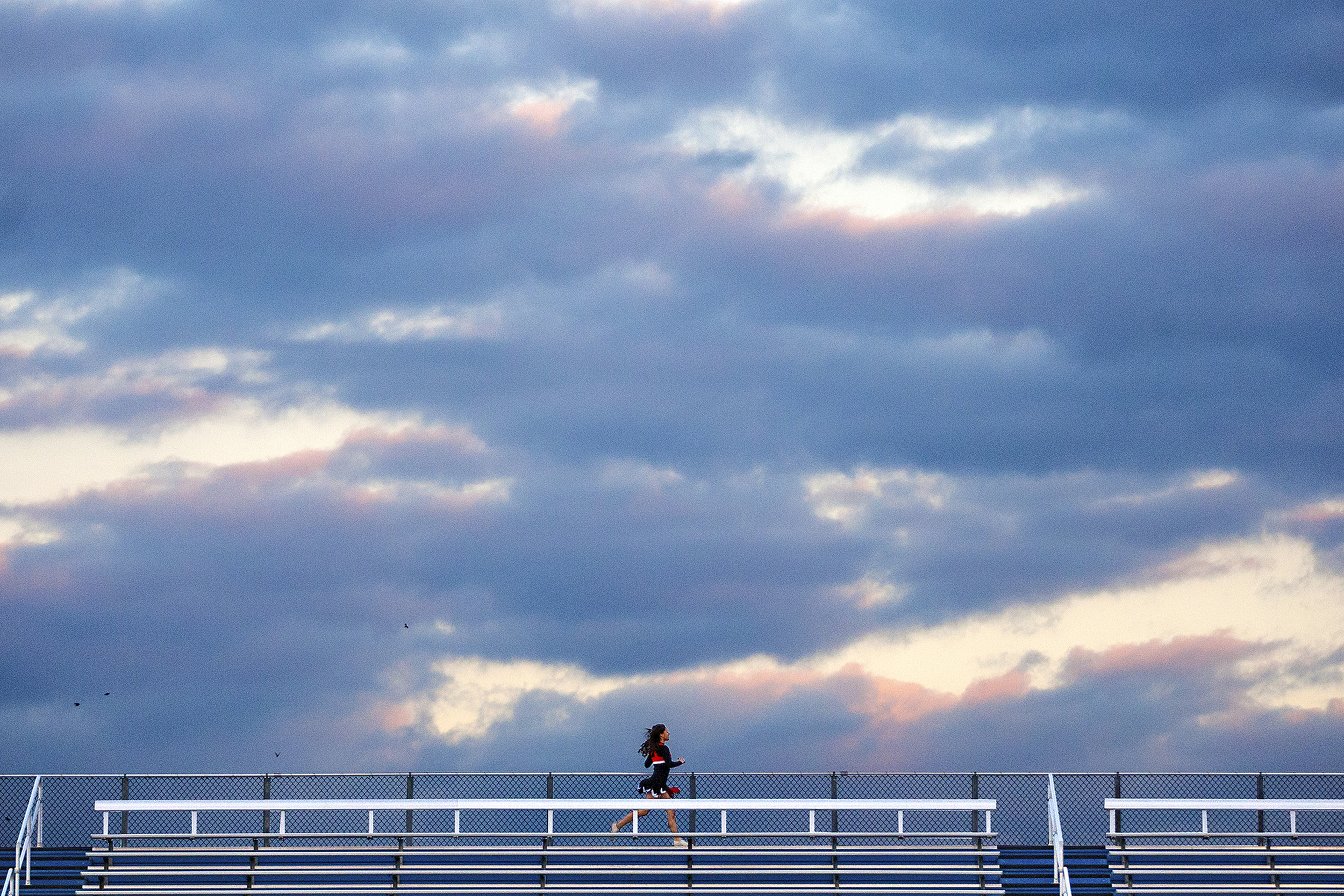 Nixa High School cheerleaders huddle prior to the start of the game between Nixa High School and Ozark High School held at Tiger Stadium in Ozark, Mo. on Oct. 7, 2016. The Ozark Tigers won the game 28-27.
Rutgers Scarlet Knights finish a stunt during third quarter action of the game between the Rutgers Scarlet Knights and the Eastern Michigan Eagles at High Point Solutions Stadium in Piscataway Township, N.J. on Sept. 9, 2017.
A member of Lufkin High School's "Panther Pride" drill team sits in the empty stands prior to the Panther's homecoming football game against Whitehouse played on Oct. 3, 2014 at Abe Martin Stadium in Lufkin, Texas. Established in 1905, Lufkin High has a proud football tradition dating back to the 1930s and '40s, when head coach Abe Martin led the Panthers to four district championships and only ten losses in seven years. The town's football success was continued by Dunbar High School, the segregated African-American high school in Lufkin, and its conquest of three state championship titles in the 1960's. After Lufkin High's integration in 1970, the Panthers have continuously produced eventual NFL players, including current Dallas Cowboys star Dez Bryant, and were crowned state champions in 2001.
2017 Class 6A Division II Area Playoff game between the Westlake High School Chaparrals and the Smithson Valley High School Rangers at Alamo Stadium in San Antonio, Texas on Nov. 24, 2017.
Glendale High School senior cheerleader Kiersten Meyer checks her hair on her car window's reflection prior to the start of the Falcons' game against Central High School at Harrison Stadium in Springfield, Mo. on Oct. 23, 2015.
Mt. Vernon Junior High cheerleaders Jordan Downey (right) and Sadie Heisner do a flip after a Mountaineers score during first quarter action of the high school football game between Mt. Vernon High School and Aurora High School at Mountaineer Stadium in Mt. Vernon, Mo. on Sept. 30, 2016. The Mt. Vernon Mountaineers won the game 42-28.
Missouri State University cheerleader Lacey Bertram flies up in the air during a stunt prior to the start of the Bears' season opener game against the Memphis Tigers at the Liberty Bowl Memorial Stadium in Memphis, Tenn. on Sep. 5, 2015. The Tigers won the game 63-7.
Nixa High School cheerleaders stand for the national anthem prior to the start of the football game between Nixa High School and Webb City High School at Eagles Stadium in Nixa, Mo. on Sept. 23, 2016. Webb City won the game 34-10.
Kickapoo junior Alyssa Griffin (right) gets her face painted by fellow cheerleader Josie Neal prior to the Chiefs' season opener against the Parkview Vikings at Kickapoo Chiefs Stadium in Springfield, Mo. on Aug. 21, 2015.
Georgia Bulldogs cheerleaders perform during first quarter action of the 2018 College Football Playoff National Championship between the Georgia Bulldogs and the Alabama Crimson Tide at Mercedes Benz Stadium in Atlanta, Ga. on Jan. 8, 2018. Alabama won the game in overtime 26-23, earning its fifth national championship since 2009.
Reeds Spring High School cheerleaders stand next to an excited mascot prior the Wolves' game against Central High School at Carl Langley Field in Reeds Spring, Mo. on Oct. 9, 2015. Reeds Spring won the game 35-24. (Guillermo Hernandez Martinez/Springfield News-Leader)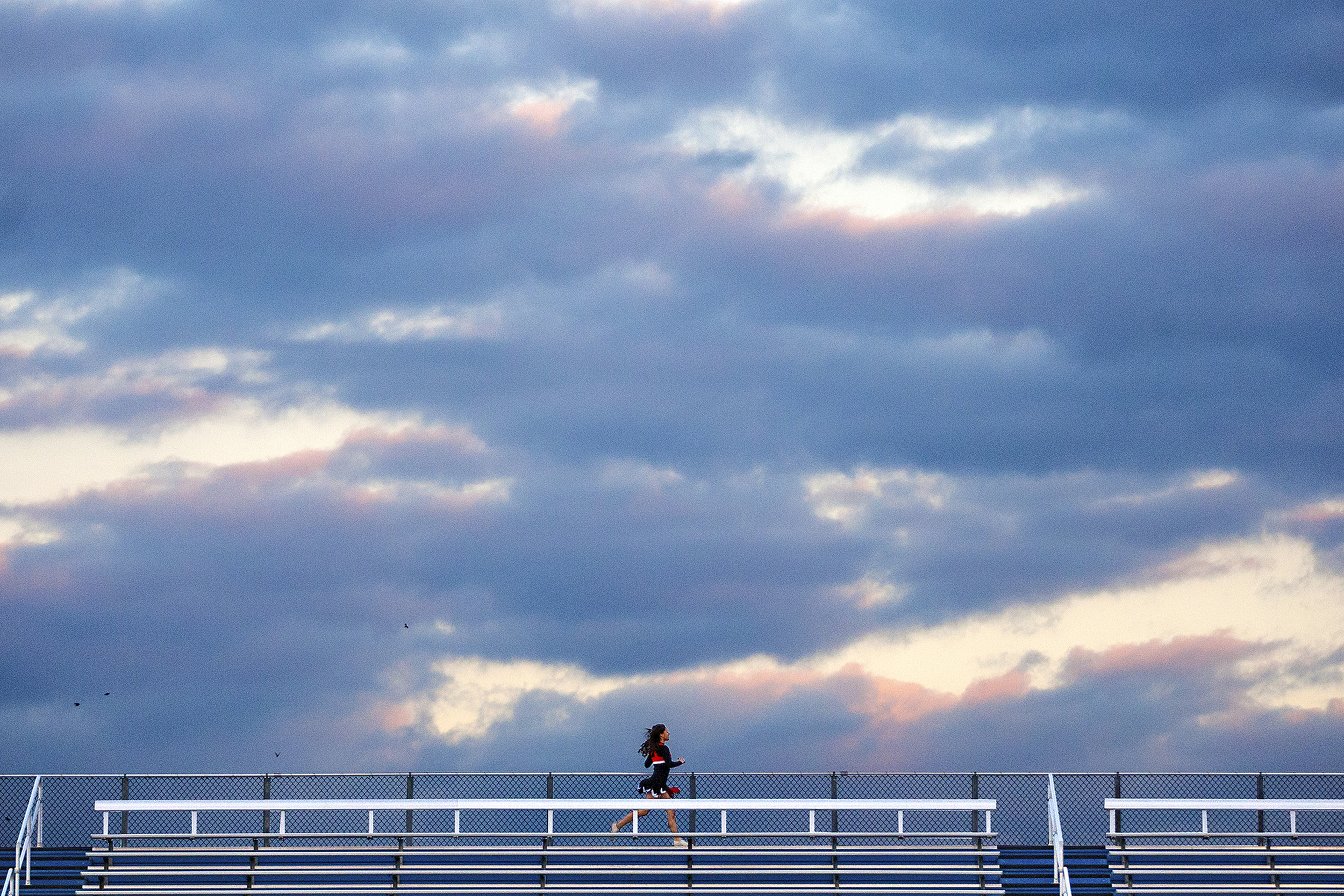 A Centerville High School cheerleader runs the length of the visitor side bleachers at B. E. Birkelbach Field in Georgetown, Texas as she and fellow cheerleaders decorate the side before fans arrive to watch the Tigers take on the Mason Punchers in a 2A state semifinal game on Dec. 12, 2014. Mason would defeat Centerville 27-7 and punch their ticket to the state championship game to be played at AT&T Stadium in Arlington.